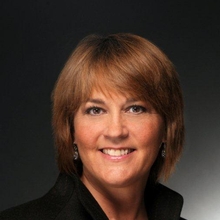 Lisa A. Stegink

Member
P: (312) 929-1966
F: (312) 572-6687
lstegink@clpchicago.com
Download V-Card Print This Bio
Lisa A. Stegink is a founding Member of Chicago Law Partners, LLC. Lisa counsels trade and professional associations and related not-for-profit organizations on corporate governance, intellectual property, contract, tax, electronic communication, general liability, antitrust, certification and credentialing, and related matters. She has appeared before state and federal agencies and legislatures advocating positions on behalf of client associations.
Experience
Lisa frequently counsels not-for-profit directors and officers on their legal and fiduciary duties, including practical advice on how to be an effective board member and how to reach solutions focused on purposes and goals, not just specific outcomes. Lisa is known for her ability to foster collaborative and creative decision-making and to navigate complex and divisive issues that arise within and among organizations and their boards of directors.
Lisa is a member of the American Society of Association Executives, for which she has served on the ASAE Annual Legal Symposium in Chicago Planning Committee and the Legal Section Council. Lisa also is active in the Association Forum of Chicagoland, the "association of associations" for more than 1,500 business, charitable, civic and professional associations in Chicago. She currently serves as Chair of the Association Forum's Editorial Working Group, and is a past recipient of the Forum's Associate Member Service Award.
Lisa is the author of the chapter "Legal Issues & Managing Risk in Professional Development Activities" in the 2nd edition of ASAE's Core Competencies in Association Professional Development. Lisa is a frequent speaker on association-related topics and a regular contributor to association magazines and newsletters, including Associations Now, Association Law & Policy, Forum, Signature (formerly Association Publishing), and Exempt Organization Reports: Tax-Exempt Advisor.
Lisa graduated from the University of Chicago Law School in 1991. She received her undergraduate degree from Calvin College in Grand Rapids, Michigan in 1985.
Lisa was admitted to the Illinois bar in 1991. She has received an AV Preeminent® Peer Rating in Martindale-Hubbell®.