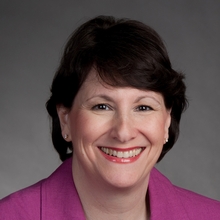 Susan Feingold Carlson

Member
Phone/Fax: (312) 929-1956
scarlson@clpchicago.com
Download V-Card Print This Bio
Susan Feingold Carlson is a founding Member of Chicago Law Partners, LLC. She has extensive experience counseling international, national, state and local trade associations, professional societies, certifying boards, educational foundations and other nonprofit organizations on antitrust, contract, tax, credentialing, corporate governance, electronic communication, healthcare, liability, meeting and convention, and membership matters.
Experience
Susan has extensive experience advising professional societies on publishing and certification matters. She has negotiated long-term, multi-million dollar arrangements for established peer reviewed journals; contracts for start-up journals with little or no subscription history; and agreements for the sale and purchase of journal assets, both from publishers and professional societies. Her clients have been involved in electronic publishing since its inception, and she is well versed in counseling them with respect to the tax, intellectual property, and liability issues associated with both print and online publishing. Susan has assisted associations and certifying boards in creating new certification programs and has represented existing certification boards on a full range of issues, including policy development, test validity, Americans With Disabilities Act, and enforcement matters.
Susan is a member of the American Society of Association Executives, for which she has chaired the Chicago Legal Symposium Planning Committee and served on the Legal Section Council. She also is a member of the Association Forum of Chicagoland and a past chair of its Education Committee. Susan is a contributing author of Professional Meeting Management, and has spoken and written extensively on association matters.
Susan has been recognized by her peers as a Leading Lawyer in Association & Non-Profit Law by Leading Lawyers Network, and she has received an AV Preeminent® Peer Rating in Martindale-Hubbell®.
In 1981, Susan graduated from Brown University with an A.B. She earned her J.D. from Vanderbilt University in 1984. While in law school, Susan served as an associate editor of the Vanderbilt Journal of Transnational Law.
Susan was admitted to the Illinois bar in 1984.